Becoming a Photo Booth Upload Ninja
Photo Booth Upload is the Swiss Army Knife of photo booth software. Considered the photo booth software of the pros, Photo Booth Upload is packed with features for all users from beginner to ninja. At this hands on workshop, we will walk you through tips and tricks for using PBU to open up your photo booth business to more high-end corporate clients. We will walk through the software starting with setting up simple photo strips and page designs. We will then add elements including animations, morphing, light painting, slow motion video, and even virtual reality. Join us for this workshop to hone your PBU Ninja skills!
The 2-3 major takeaways an attendee walks away with having attended your seminar.
Attendees will learn tips and tricks for using Photo Booth Upload to open the door to high-end corporate clients by becoming masters of the most feature rich photo booth software on the market.
Tickets for this EXCLUSIVE training are available only from LA Photo Party Upload.
Software Training
Technology
Location: Main Seminar Room 2
Date: March 22, 2017
Time: 1:00 pm - 2:30 pm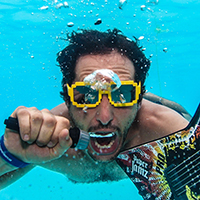 Brian Miller
UP